Saasyan Showcasing AI-Powered Student Safety & Wellbeing at EduTECH 2021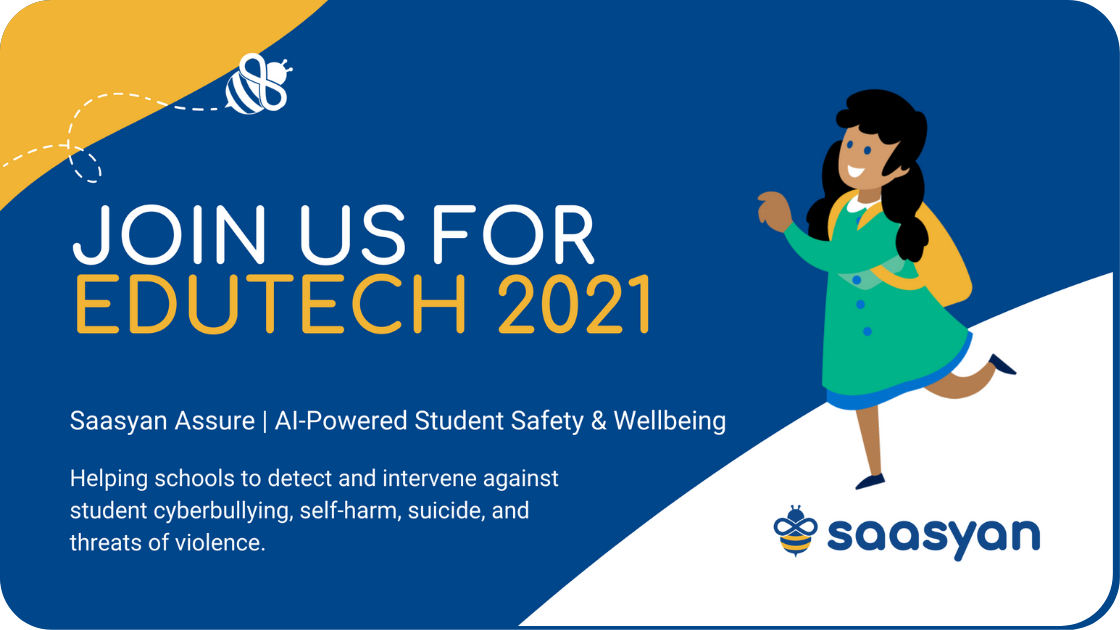 Ensuring the safety and wellbeing of over 400,000 school children and teachers across 600 government and non-government schools, Saasyan will be at EduTECH 2021 on August 17th and 18th as an exhibitor featuring our AI-Powered Student Safety and Wellbeing solutions, serving the K-12 education market globally.
Come see how we apply advanced analytics and AI to monitor, alert and report across all student digital activities, including in chat, email, search, websites, social posts and videos.
You'll also discover how our cloud-based software-as-a-service solution integrates and leverages data and technologies already deployed by schools such as identity management systems, next-generation firewalls and productivity platforms including Microsoft 365 and Google Workspace. We then apply multiple levels of intelligence including a crowd-sourced words and phrases dictionary, fuzzy logic, natural language processing and cohort analysis to determine context and identify high-risk outliers in student behaviour.

Saasyan's automated alerts and on-demand reports enable wellbeing counsellors to detect and respond to high-risk student behavioural and emotional indicators early, safeguard students across all their digital interactions and deliver on their student duty of care responsibilities.

At Saasyan, student safety and wellbeing is at the heart of our existence.
Our mission has just begun.
Book a Meeting With Us At EduTECH 2021>>
EduTECH 2021 virtual expo
EduTECH 2021 is just around the corner, celebrating its 10-year anniversary. We invite you to join us at the EduTECH 2021 Expo and Conference on August 17th and 18th.
An exciting agenda with speakers, exhibitors, workshops, panel discussions, networking events, entertainment - all of which will be at your fingertips when you join virtually from home. The expo brings together educators, leaders and futurists from around the world to share, discuss, network and learn about the latest developments in education, edtech and more.
Get access to all the goodies - register now to get your virtual pass for EduTECH 2021!
What's On The Agenda at EduTECH 2021?
EduTECH is the largest Education event in Australia, with 10,000+ attendees, 250 speakers, 50 exhibitors, 100+ learning hours through 11+ channels. Due to the latest outbreak of Covid, the conference will be carried out 100% virtually. The in-person portion will be moved to 2022.
The EduTECH conference has a wide range of items on its agenda. The events include the opening panel, the closing panel, the keynote address, and a variety of workshops held on different topics. There is also a pre-conference workshop that is open for enrollment.
See Full EduTECH 2021 agenda >>
See Who Are The Speakers at EduTECH 2021 >>
See All Exhibitors at EduTECH 2021 >>