Our AI-powered, SaaS solutions help schools with advanced detection and intervention against:
Today, Saasyan is assuring the safety and wellbeing of
Over

400,000

Students across

600

government and




non-government schools
Our flagship product
Saasyan Assure
provides school wellbeing practitioners, teachers and IT with actionable insights.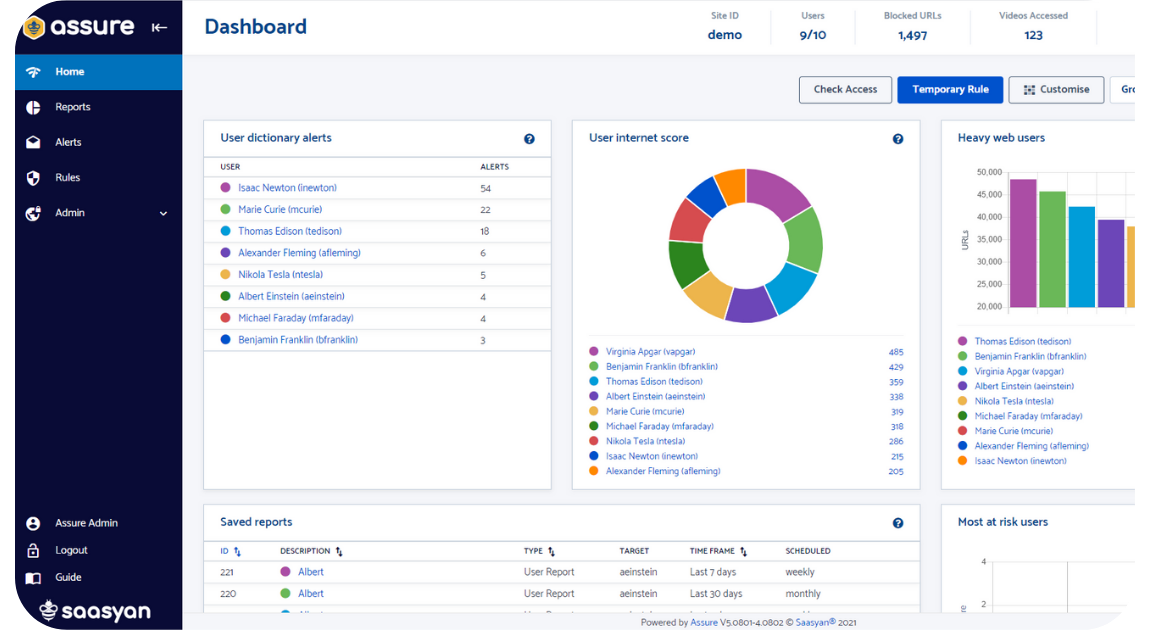 Monitor
Detect
Alert
Investigate
Escalate
Report
Archive
Temporary Firewall Rule Overrides

Coverage
Across all online and digital student activity on the school network
Web-searches
Web sites visited
Videos
Chat
Email
Social media
Emojis

Detection
Detecting high risk student behavioral and emotional indicators
#self-harm
#cyber-bullying
#eating-disorder
#sexual-language
#sexually-explicit
#violence #profanity #suicide
#drugs #alcohol
#racist-slurs
#sexism #LGBTI-slurs
#religious-slurs
#aggression #terror
and more.....
Assure Integrations
Saasyan Assure integrates with and leverages best-in-class technologies
Microsoft Active Directory
Azure AD
Google Identity Platform
Okta
Cloudwork Identity Manager
OneLogin
Fortinet
Palo Alto Networks
Sophos
Zscaler (coming soon)
Cisco (coming soon)
Microsoft 365 (previously Office 365)
Google Workspace (previously G-Suite)
Canvas
Google Classroom
Schoolbox
Frog LMS (coming soon)


---

Support for LTI Framework
Edval
Synergetic
Timetabling Solutions
Edumate
Maze


---

Additional connectors available
Join Your
#SafeVillage
Community for
Student Safety & Wellbeing
While we're proud to be market leaders with our cutting-edge AI and cloud technologies, we are also humbled by the fact that no technology company, no government, no school and no parent in the world – is completely on top of student safety and wellbeing.
At Saasyan, we believe it takes a #SafeVillage:

• For children to flourish
• For students to learn
• For parents to have peace of mind
• For teachers to do their life's best work
• For principals to deliver learning outcomes
• For society to develop outstanding citizens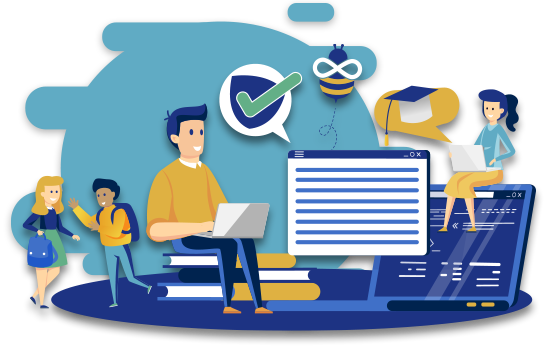 So, in addition to our technology leadership, we see ourselves, together with our #SafeVillage partners, enabling a global community where we encourage conversation, learning and support for everyone who cares about student safety and wellbeing.
Sign up to be notified of the launch of your #SafeVillage community.
Why Schools love Saasyan Assure
✅ Temporary overrides of firewall policy
✅ Reporting on programs and website accessed during your class.
Mr Croft, the Year 11 Arts teacher wants to play a Youtube video currently blocked by the school firewall policy.
With an easy-to-use feature in Assure Mr Croft is able to temporarily allow that video to play for the next 45 minutes without having to contact School IT or the Network Administrator.
Further, his Assure dashboard shows him what applications and websites the students are accessing in his class – allowing him to proactively realign students to focus on their work and avoid the distractions.
✅ Self-serve reporting
✅ Alerts for high-risk student activity
Previously Miss Wells the Wellbeing Director had to rely on the School IT team to create and run searches on high-risk activities by students. This used to take days and were never comprehensive.
Now using Assure she has the ability to run reports on-demand by herself and she knows she is getting up-to-the-minute information.
Additionally, she now relies on the Alerts to notify her automatically via email if any high-risk activity is taking place.
✅ Reduced administration
✅ Reduced complexity
✅ No compromise on best-in-class technologies
With Assure:
No Hardware (Assure is an all-cloud SaaS solution)
No Agents on school servers or student devices
No impact to internet or server performance
Encrypted Data SSL connection
Highly scalable – Assure is hosted on Amazon Web Services
Fast Responsive – leveraging cloud computing, Assure's searching, filtering and reports respond in milli-seconds
Easy compliance with Data Retention policy
Integrates with school identity management system
Integrates with security and next generation firewall
Eliminates demands by teachers on IT staff for temporary changes to firewall policies
Eliminates demands by wellbeing leaders on IT staff for running searches and reports on student online activity