Saasyan Announces New Pricing & Feature Changes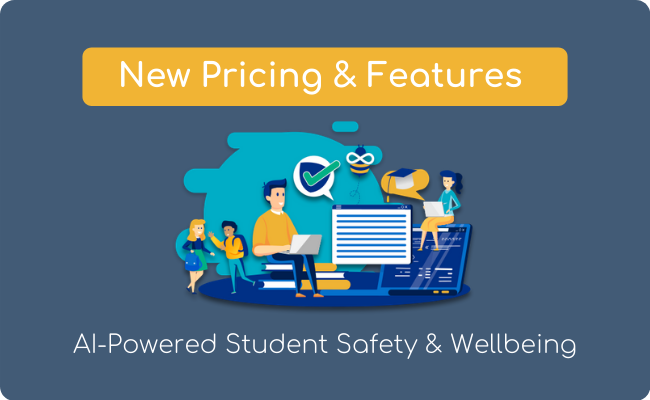 Here's What It Means For Student Safety & Wellbeing For All Schools
We know we are not alone in believing that...
All students deserve to be safe and well across all their digital activities, including in chat, email, search, websites, social and videos.
So, as we considered our mission and 'what else' we could be doing...
We're proud to announce our new pricing model, which makes Saasyan Assure affordable for all schools (Yes! We've reduced our fees) and now includes all our features in the one standard product (Yes! It includes everything).


👉 Request Quote with new pricing
👉 Watch an On-Demand Demo of Saasyan Assure


This means our Saasyan Assure AI-Powered Student Safety & Wellbeing solution is now all-inclusive with:


✅ Alerting and Reporting Across:
Searches

Websites




Social

Applications



Videos


✅ Student, Classroom & School Productivity Features:
Firewall Rule Overrides

Student Digital Rating

Crowd-sourced words and phrases dictionary, complemented by our K-12 tuned Natural Language Processing (NLP) AI engine
On-demand & scheduled reports
Customisable dashboard
Eliminates requests by teachers & wellbeing on School IT for ad-hoc firewall changes and reporting
Audit Logging


✅ No-Compromise on Best-in-Class Technologies
Integrates with existing school technologies:


Identity and Single Sign-On (SSO)
Next-generation firewall

All-cloud SaaS solution - no hardware or software to maintain and manage
No agents on school servers or student devices
No impact to internet, server or device performance
Encrypted Data - at rest and in-flight
Easy compliance with Data Retention Policy


✅ Advanced Analytics and AI, including:
Crowd-sourced words and phrases dictionary
Fuzzy logic & near-term analysis to identify misspelt harmful words and phrases
Natural Language Processing to identify harmful context in search, chat, emails and video titles
Cohort analysis to reduce false-positive alerts and to identify anomalies
Recurrence analysis to identify patterns in behaviour that needs attention


For our existing customers, we've got you covered... 🙌
For customers who have purchased or renewed their subscriptions in the past 90 days, we will provide a pro-rata credit to your next renewal invoice to compensate for any over-payment as compared to our new pricing model.
This includes a credit for customers who had additionally purchased our previously optional add-on features (e.g. Microsoft 365 Assure Add-on).
For all our customers, all our features are now included in your subscription


👉 Book With Customer Success to Add Your New Included Features


Stay Tuned!
Today, we're ensuring the safety and wellbeing of over 400,000 students, across 600 government and non-government schools. Stay tuned for upcoming announcement across our product and community.
Our mission has just begun!


👉 Request Quote with new pricing
👉 Watch an On-Demand Demo of Saasyan Assure