Crowdsourced Whitelisted Phrases, Safe Image AI For Microsoft OneDrive, Cisco Umbrella Integration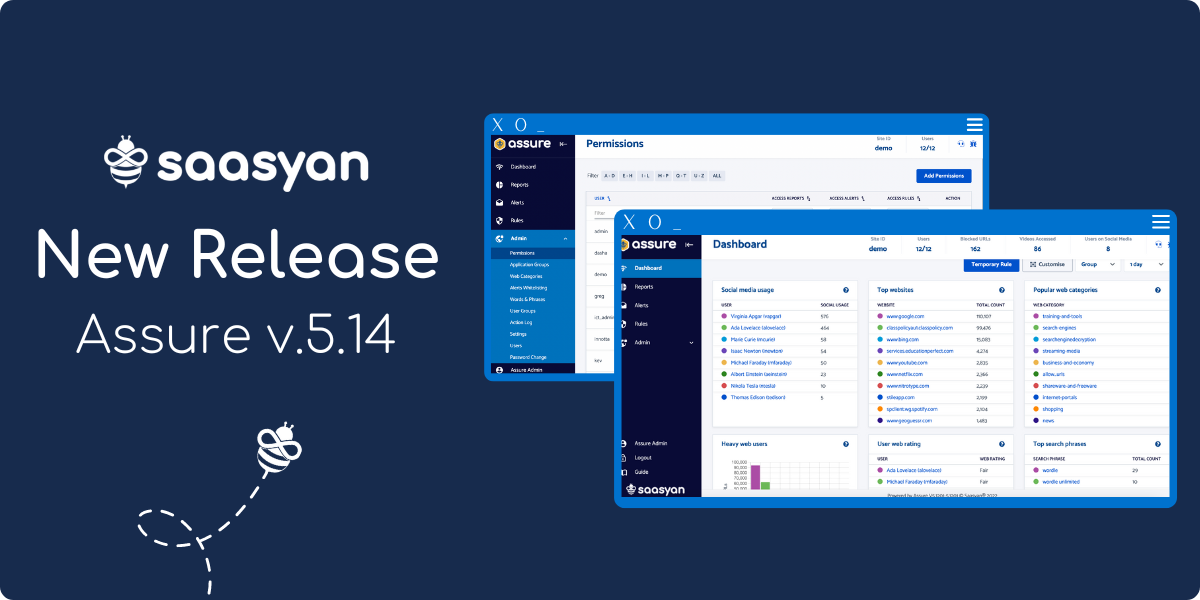 New Assure Features - November 2022
The year is ending on a high at Saasyan with an exciting Assure release!
Read on to learn about some of the awesome new features we are bringing to you in v.5.14.
1. Whitelisted Phrases Are Now Crowdsourced
In the latest release, we have continued to work hard to reduce 'false positives' in our Alerts by enhancing the whitelisting function to support crowdsourcing.
You can access the list of new crowdsourced whitelisted phrases by navigating to your Global Phrase Whitelist in the Alerts Whitelisting section found in the Admin module. Under the Crowdsourced tab you can:
View the list of crowdsourced whitelisted phrases;
Accept All crowdsourced whitelisted phrases. By accepting all suggested phrases in the crowdsourced list, you will update your Local Global Whitelist with the new phrases, however, any previous whitelisted phrases you have created will not be affected;
Accept your choice of whitelisted phrases to be individually added to your Local Global Whitelist.
Reject your choice of whitelisted phrases to be removed from your Crowdsourced Global Whitelist.
How to add and removed crowdsourced whitelisted phrases:
2. Saasyan Safe Image AI Is Now Available For Microsoft OneDrive
Assure's Safe Image AI function helps schools combat the sharing of explicit content by scanning for images containing nudity and flagging them as alerts.
Assure's integration with Microsoft OneDrive enables schools that use Microsoft 365 to utilise this function.
Assure scans a student's OneDrive and any images containing sexual content will be flagged as an alert. You can investigate these alerts in the Assure Alerts History Tab where you have the option to view the flagged images.
OneDrive Integration:
3. Saasyan Assure Supports Cisco Umbrella Security
Cisco Umbrella offers flexible, cloud-delivered security that extends data protection to devices and remote users, across any locations.
Cisco and Saasyan have partnered to offer K-12 schools a no-compromise integrated solution leveraging best-in-class cyber security and student safety.
With Saasyan's integration with Cisco Umbrella, schools now have:
Advanced alerting of cyberbullying, self-harm, online grooming & threats of violence;
Easy reporting of student online activities, and;
Deep insights into student's chat and email in Google Workspace and Microsoft 365.
Cisco Umbrella Integration Architecture: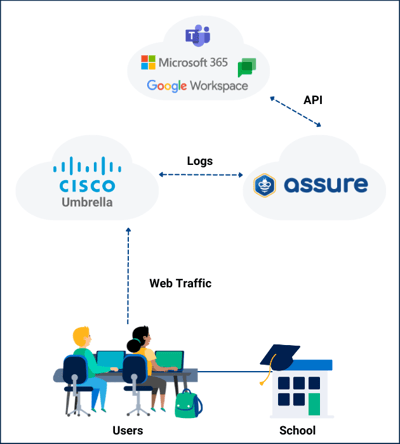 This release contains many more exciting new features. Check out the full feature list below.
Got Questions?
Get in touch with our Customer Success Team.