Saasyan Assure: Flexible Web Filter Controls With Your Current Firewall and LMS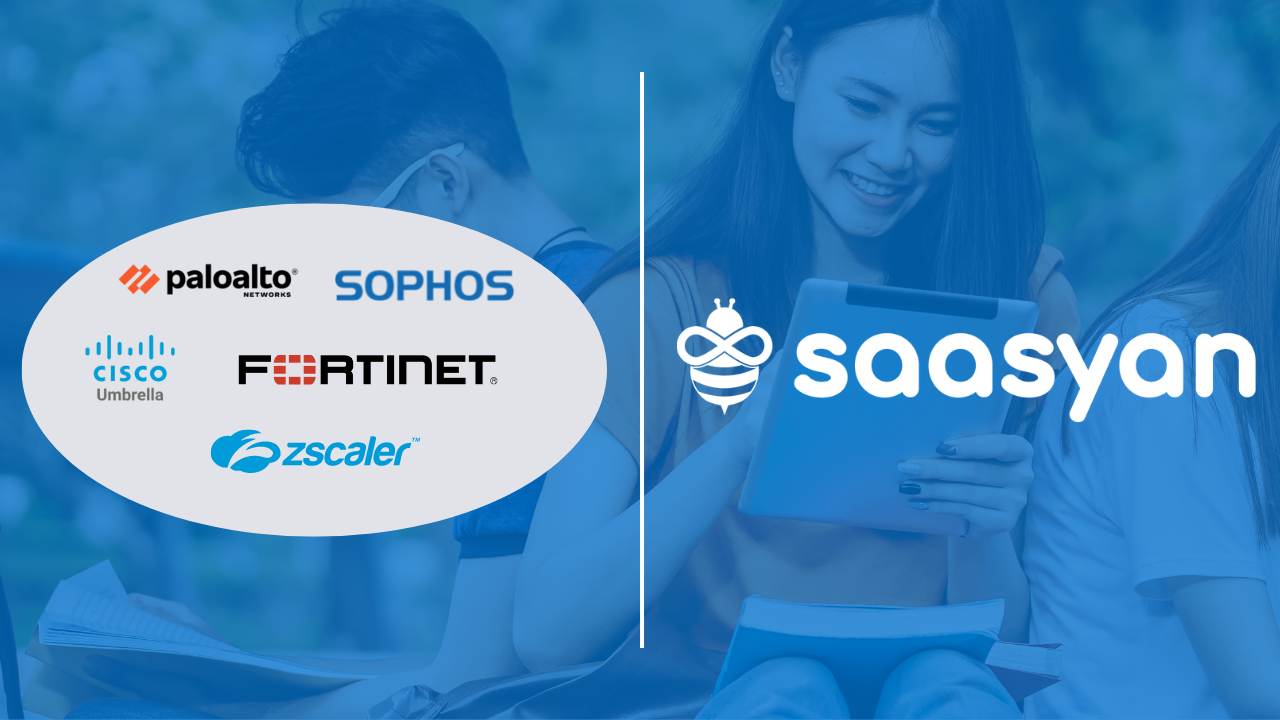 Extending the capabilities of Palo Alto Networks, Fortinet, Zscaler, Sophos and Cisco Umbrella, Saasyan Assure provides delegated web filter controls and live classroom views.
---
With increased reliance on technology and personal device usage in the classroom, K-12 schools are faced with the challenge of adapting their infrastructure to meet these changing demands.
As an IT community, not only does this create the need to look for innovative new solutions, but poses the challenge of implementing these resources among a staff that may not have a highly technical background.
We believe it takes a village to keep your students safe online and as a result have created a solution to empower staff across a number of roles to be involved.
How It Works
Assure is an all-cloud solution hosted on AWS that leverages four key API integrations into your school's existing setup.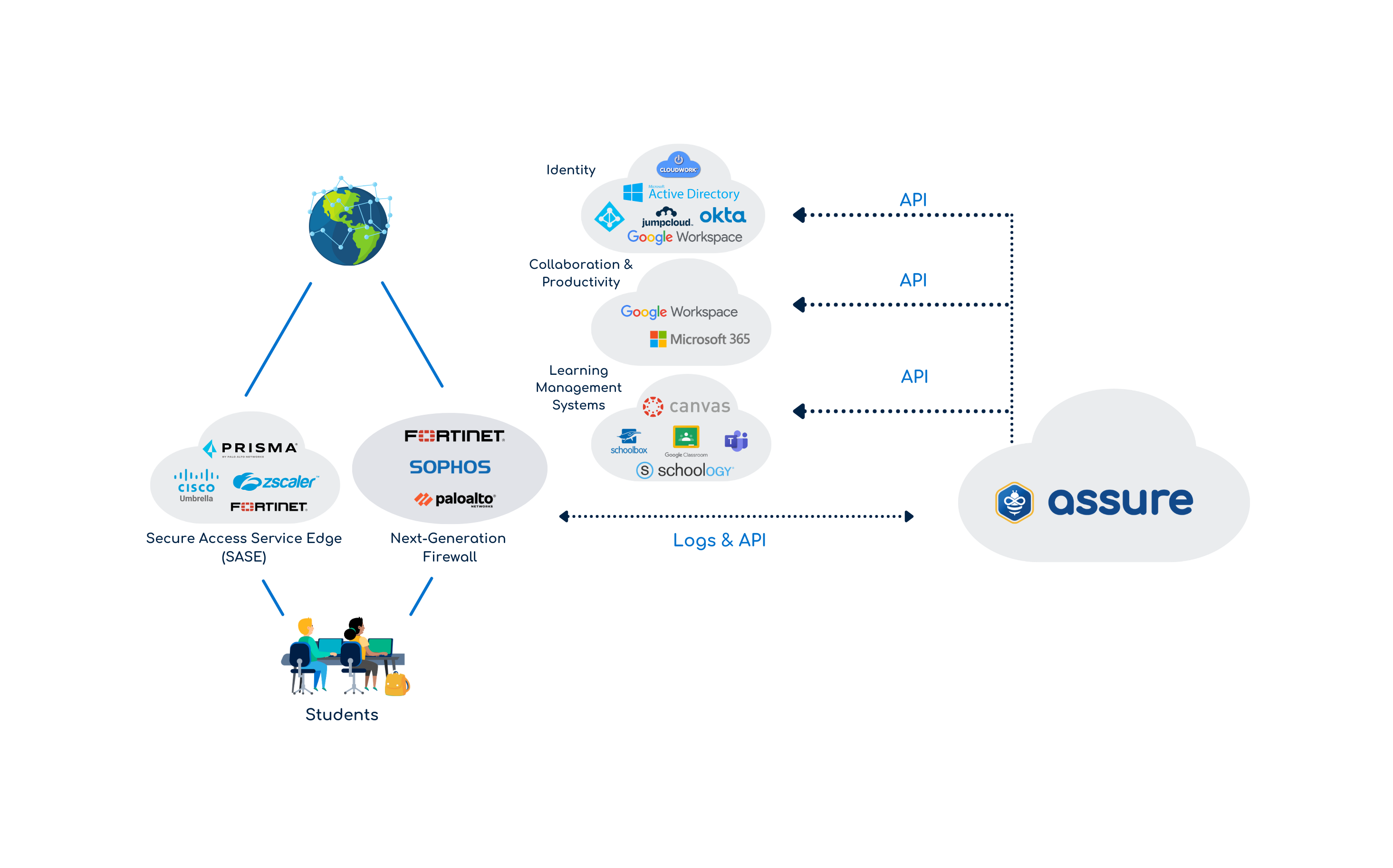 For the purpose of our Web Filter Controls, we will be focusing primarily on the integration with your school's firewall and learning management system.
Through the API connection with your current firewall, Assure is able to create policy overrides with support for Palo Alto Networks, Fortinet, Zscaler, Sophos and Cisco Umbrella.
While these next generation firewalls are certainly sophisticated, they weren't specifically made for K-12 Schools and as a result have several limitations. For example, they aren't able to cater to varying web policy needs across different year levels, nor are they particularly accessible to non-technical users.
This means if any staff member wants to create a new policy; a help request or ticket is typically required which creates unnecessary involvement and increased workload for IT personnel.
With Assure, users can create temporary, indefinite, or recurring firewall rule overrides either directly from Assure, or within their tool of choice.
Assure's integration into popular learning management systems like Canvas, Schoolbox, Schoology, Google Classroom, and Teams means teachers can quickly access the rules function, classroom view, and offline users from their tool of choice.
This helps enable teachers to regain control of their classrooms to allow or block content right from their workbook and supports SSO so your staff will not need to further authenticate.
From their workbook, a teacher can simply click the 'Saasyan Assure' icon to access the platform. They can then allow or block anything from web categories, applications, or even specific URL's. Because Assure intelligently gathers the users found within that class, when the rule is created it automatically applies to only the relevant users or groups.
Whole Class Visibility
The 'Classroom' or 'Live' view is a great resource to leverage if a teacher wants to quickly display the web activity for an entire class for the previous 15 minutes without needing to perform an in-depth investigation.
Categories are colour coded and displayed in a clean grid to allow easy identification of adverse web behaviour and activity.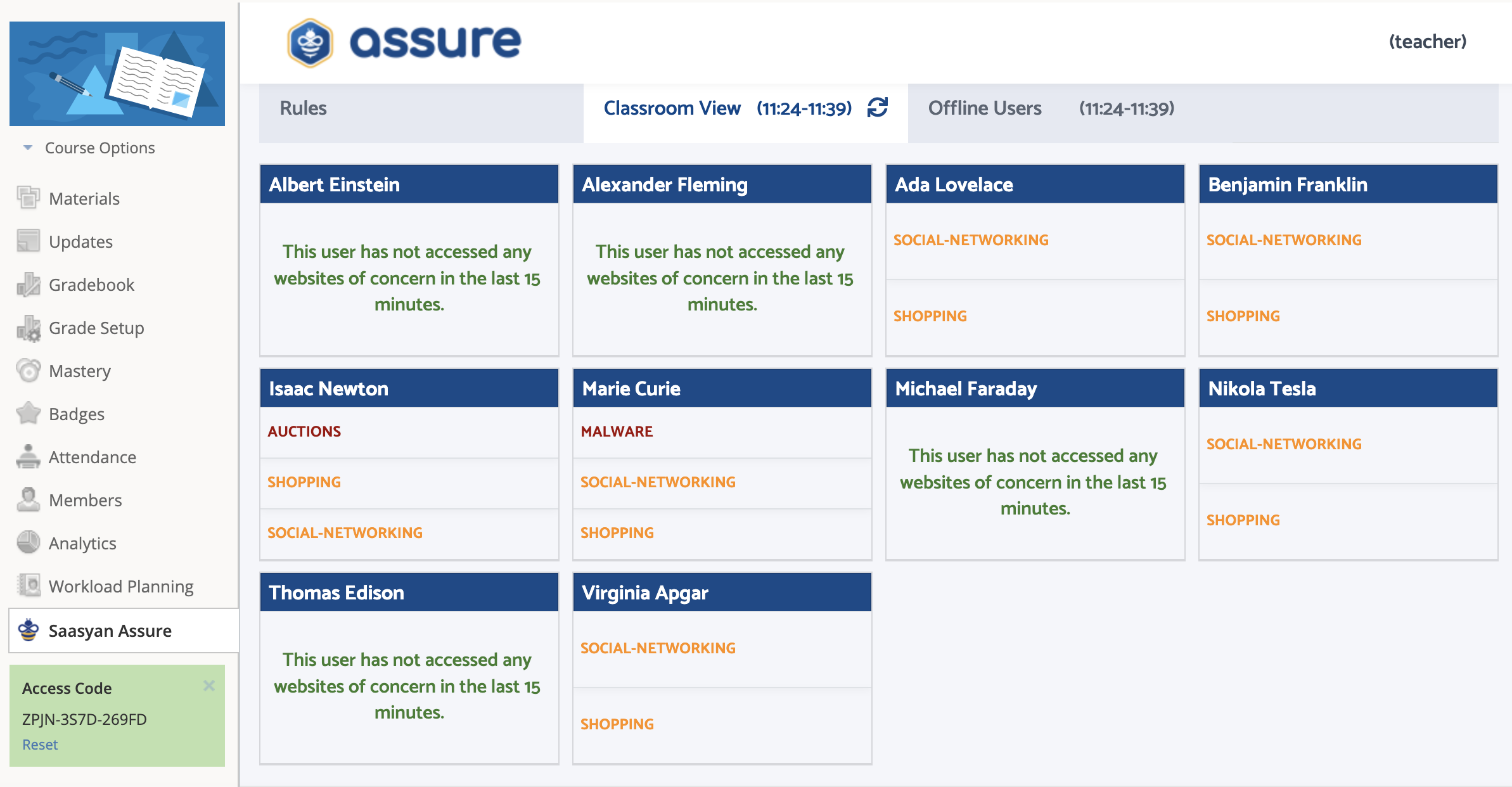 Detection of Offline Users
The offline users will display any student who has not been detected on your school's network for the previous 15 minutes. Currently, if IT professionals want to identify students who were offline, it can take hours to cross match student attendance data with the logs available from your firewall, but with Assure, you can delegate this to the teaching staff at your school.
If a teacher has taken attendance, but sees a student's name appear under offline users even though they are present in class, they can proactively ask the student to reconnect to the school network rather than relying on the IT department to identify this.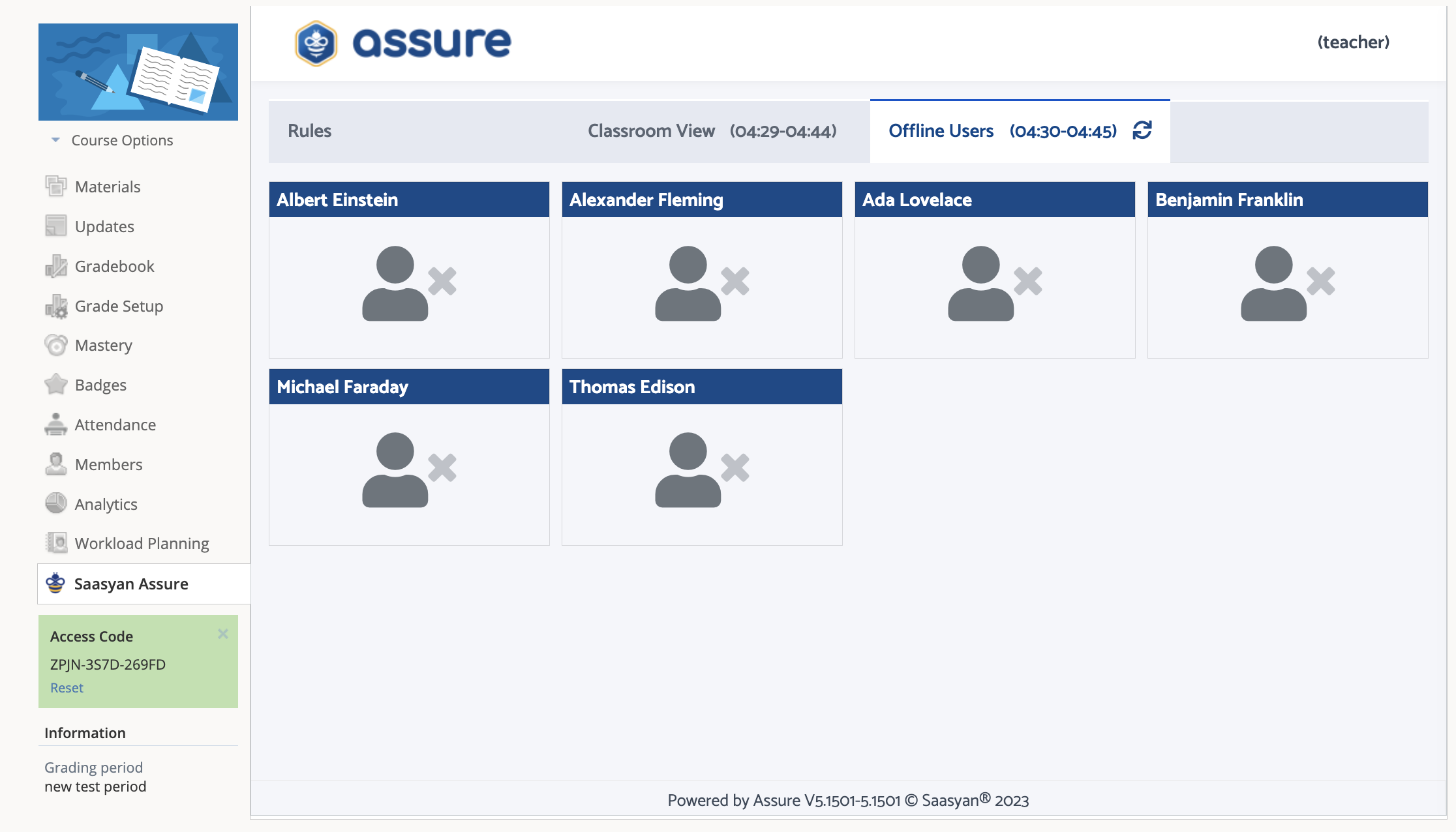 Permissions Controlled By You
We also recognise the need to restrict certain capabilities of rules depending on the needs of your school. As an Assure admin, there are a number of additional controls available to you to define the various permissions and settings such as:
The web category available to rules

The maximum duration allowed for temporary rules

If you wish to enable indefinite overrides

If you wish to enable recurring overrides

If you wish to import your school's schedule so that rules can activate atomically

If you wish to enable the 'block all internet function'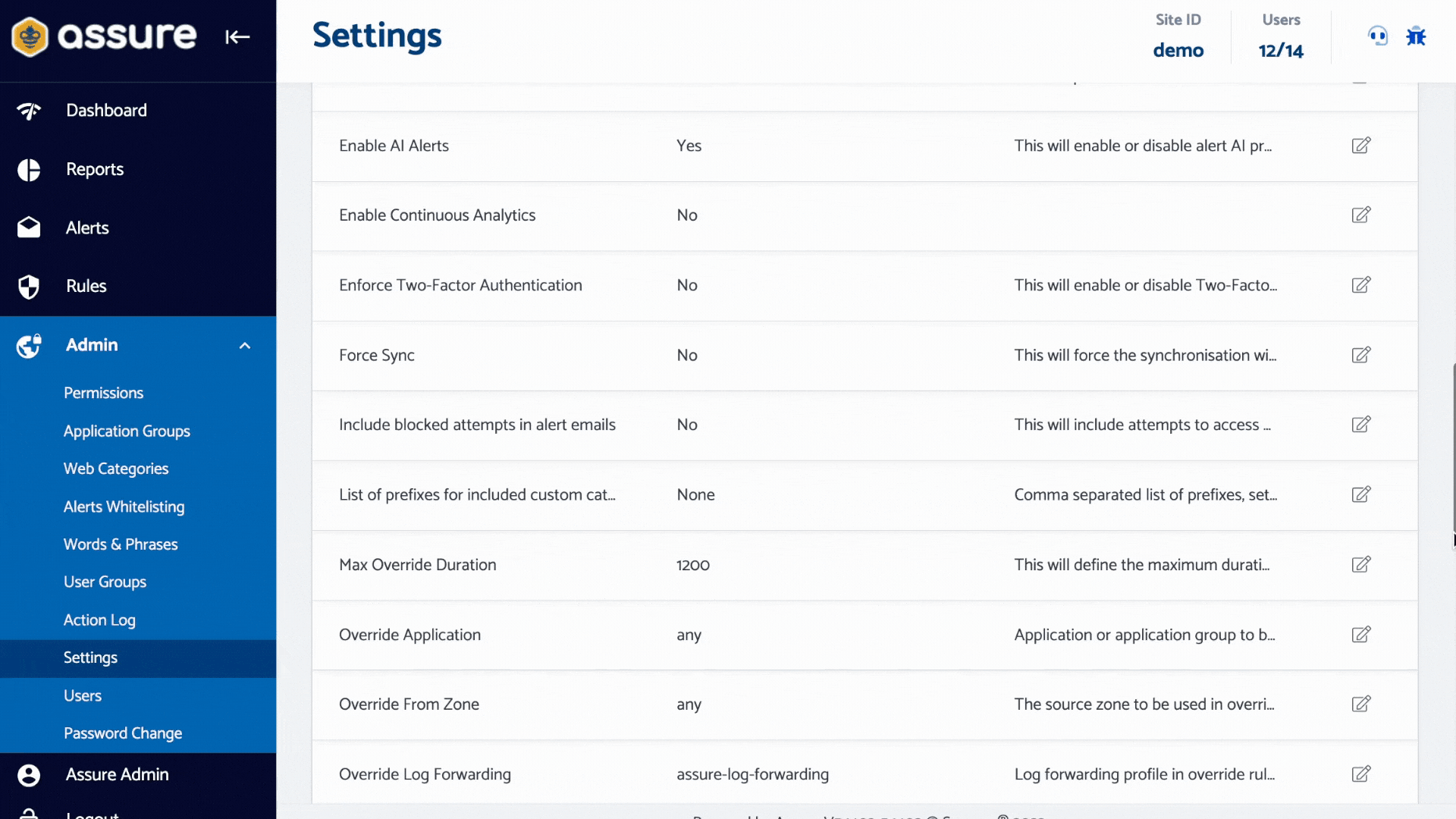 Saasyan is a leader in AI-Powered Online Student Safety for K-12 Schools
Saasyan Assure is a cloud based, AI-powered solution that solves these issues for schools by delivering:

Advanced student safety and wellbeing risk alerts of cyberbullying, self-harm, online grooming, image-based abuse and threats of violence;

Comprehensive reporting and analytics of student online activities; and

Flexible web filter controls for K-12 classrooms.



Ensuring the online safety & wellbeing of over 400,000 s

tudents across 660 schools
Saasyan is the only online student safety provider in Australia, selected for a whole-of-government solution, and continues to be the preferred option for hundreds of independent schools around the world.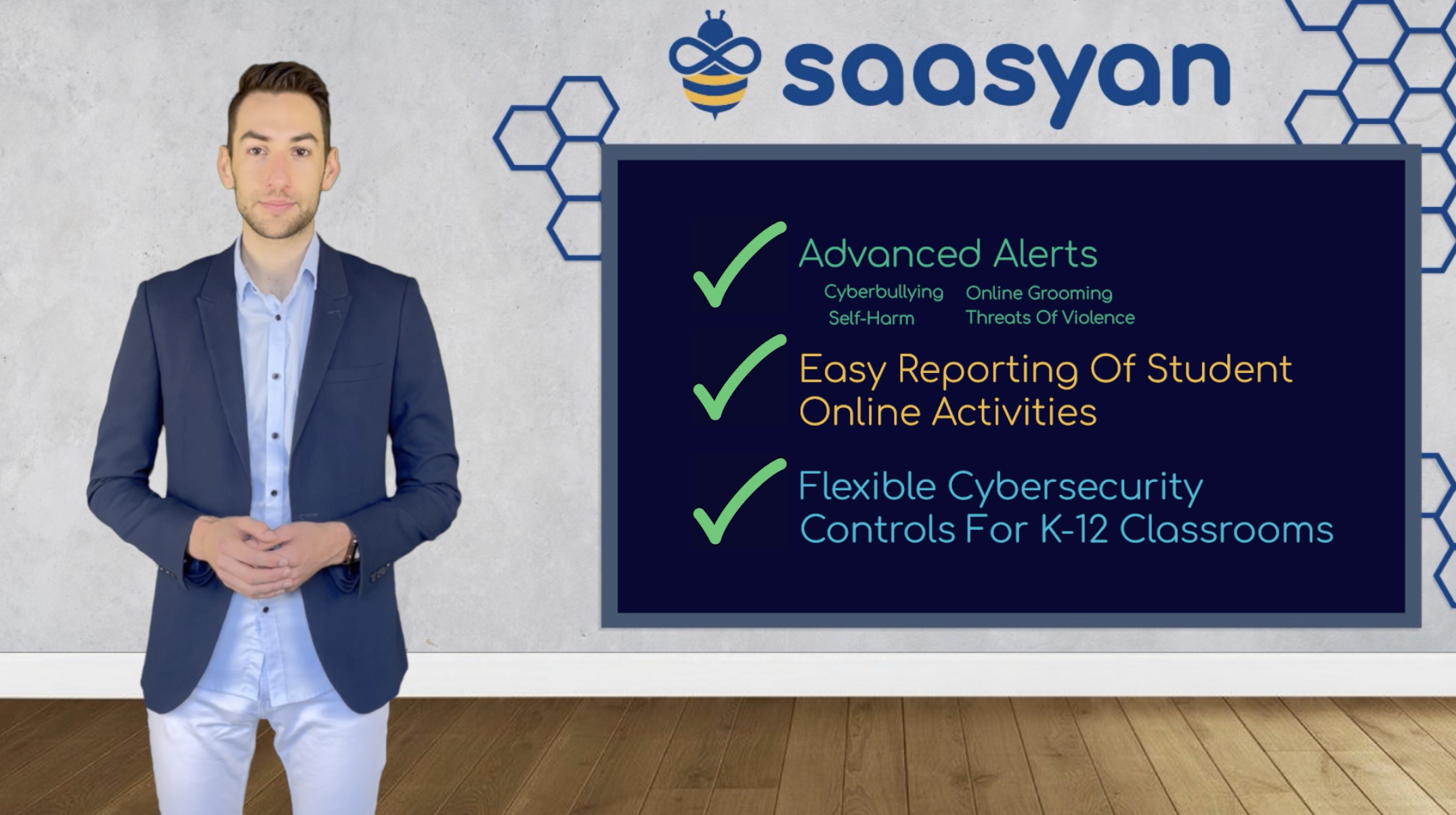 >>Watch On-Demand Demo<<